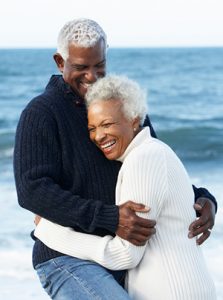 Searching for a talented dental implants dentist? Goshen, Indiana is home to Stutsman Dentistry, where we offer beautiful dental implants that can last a lifetime.
Dental implants are an advanced method of permanent tooth replacement. Dental implants have increased the health, appearance, and happiness of thousands of patients.
What are Dental Implants?
Dental implants are replacement roots and teeth that are made up of three parts:
Dental Implant Post | This medical-grade titanium post is inserted surgically into the jawbone. The dental implant takes over the functions of a natural tooth root at the site of a missing tooth.
Abutment | The abutment is the connector piece that is attached to the top of the dental implant post. It anchors the restoration to the replacement tooth root.
Restoration | Your restoration is your natural-looking replacement tooth! The restoration could be a dental crown, bridge, or a set of partial or full dentures.
Benefits of Dental Implants
Our dentists and patients love that dental implants are multipurpose. Not only do they improve the aesthetic of your smile, but they also give you a healthier and more functional smile for years to come. Dental implants will:
Stimulate and preserve your jawbone, preventing jawbone shrinkage and facial collapse.
Give you a more youthful and confident appearance for the rest of your life.
Allow you to expand your diet and consume all of your favorite foods without difficulty.
Restore your ability to speak, smile, and laugh without discomfort or concern.
When you choose dental implants at Stutsman Dentistry, you can trust that your dental implants will be safely and successfully placed. You will never have to worry about slipping and sliding dentures or uncomfortable false teeth!
Choose Dental Implants for Your Restoration
Whether you need single or multiple tooth replacement, implant dentistry may be the best solution for you. To find out if you are a good candidate for dental implants in Goshen, give us a call at Stutsman Dentistry today.