Love Your Smile: Orthodontics
Orthodontics are a smart investment because they produce a priceless reward: a beautiful smile. Your smile is an important part of your appearance, self-identity, and self-esteem.
Orthodontic treatment provides all of the following benefits and more:
Teeth that are less prone to chipping and wear.
Well-aligned teeth that are easier to care for.
Lower chance of dental decay, gum disease, and other oral health problems.
A comfortable bite that makes it easy to chew and speak properly.
Increased confidence and psychological well-being.
Orthodontic Treatment in Goshen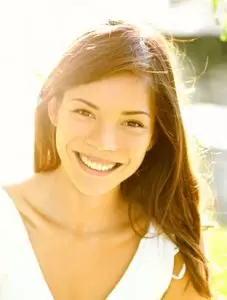 All of our patients are referred to a graduate of a formal orthodontic program. The extra two years of intense training in this area is important to providing acceptable, successful, and safe treatment for orthodontic patients.
The American Association of Orthodontists recommends that children have an evaluation by 7 years of age. In our office, we'll do this initial evaluation, and we'll prepare a plan for orthodontic treatment options for you to choose from.
Some teeth can be made to look straight with the use of crowns and porcelain veneers. These mild cases can be treated in just 2–3 appointments. Porcelain veneers are often called "instant orthodontics" because of the way they can modify the smile alignment. Both veneers and crowns can strengthen your teeth and even out your smile for about ten years.
Cosmetic enhancements with veneers or crowns do not provide all of the benefits of orthodontic treatment, but will quickly provide the patient with an attractive smile through the restorative correction of crooked, spaced, or misaligned teeth.
Straighten Your Teeth With Tréz Clear Aligners
We're also proud to offer Tréz aligners to straighten our patients' teeth. Tréz is a more convenient, clear orthodontic system that can straighten teeth without metal wires or brackets.
To get started, Dr. Stutsman will take a digital impression of your teeth to mark their current position. We'll then use those digital impressions to plan your straightening treatment and design your clear aligner trays.
Once your Tréz aligners have been custom-designed to your unique smile, we'll give you the aligner trays for you to start wearing. You'll wear these aligners all day and night—removing them while you eat and drink or brush and floss your teeth.
You'll come into our office a few times throughout your treatment so we can make sure your teeth are moving according to plan or see if any adjustments are necessary. Unlike traditional braces, these checkups will generally only happen about every six weeks, and we'll never need to tighten any wires while you're here!
Tréz aligners are the faster modern way to straighten your smile—plus, did we mention they're removable? This means no foods are off-limits! Just be sure to rinse your mouth before putting your aligners back in after meals, and keep up with healthy brushing and flossing habits.
As a bonus, the Tréz organization is a strong supporter of the Smiles for Life Foundation—a charity that donates proceeds from dental procedures into helping children in need all across the world. We're proud to partner with this service that benefits your smile as well as countless others!
Get Started on Your Straighter Smile With a Consultation!
Unsure what kind of dental treatment your smile needs? The best thing to do is schedule a commitment-free consultation with our dentists. Dr. Chad Stutsman has been practicing for many years, and he can tell you what your best course of action is when it comes to straightening your teeth.
After your treatment is finished, we believe you'll be pleased with your investment in your smile. Call us today at Stutsman Dentistry to find out more about your orthodontic options.