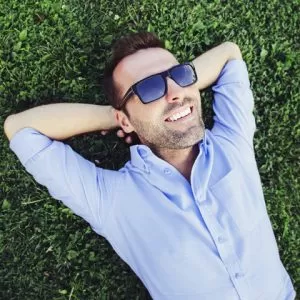 Not a fan of dental work? Had a bad experience in the past? Here at Stutsman Dentistry, we provide simple solutions to improve your relationship with dentistry.
Dental sedation is safe and effective, and helps countless patients receive the medical care they want or need. If you are ready to increase your oral health or undergo a smile makeover, come ask Dr. Stutsman if sedation dentistry is right for you.
Oral Sedation
Oral sedation is the effortless trick to a relaxing hour in the dental chair. You will take a tiny pill shortly before your appointment to soothe your fears and ease you into a tranquil state.
Our dentists can prescribe this anti-anxiety pill during a stress-free consultation. When you come in for your next appointment, you will take the pill and enter a twilight sedated state.
Sit back, close your eyes, and let our dental professionals produce incredible smile results!

Laughing Gas
If you want a fast recovery after your dental procedure, laughing gas could be the best choice for you. Laughing gas is inhaled through a breathing mask during the procedure. This gas will help you feel comfortable and make the procedure seem like it only took five minutes or less.
After the procedure, you will begin to breathe oxygen again, and the laughing gas will be quickly flushed out of your body. You can leave the appointment feeling like yourself—but with a brand new smile!
Comfortable Care at Stutsman Dentistry
Your comfort comes first at Stutsman Dentistry. We offer advanced technology and methods, gentle care, and sedation dentistry to give you an unbeatable dental visit.
The best way to find out if sedation dentistry is a smart move for you is by speaking with one of our experienced dentists. Call our office to schedule a consultation with Drs. Chad or Danielle Stutsman, who will take the time to become familiar with your needs and concerns. They can help you make these difficult decisions, and they will work with you until you are pleased with your dental experience.
If you're interested in making dentistry easier than ever, give us a call! The Stutsman Dentistry team would love to hear from you today.